Social Currency: Finding a Home at the Hub Hoi An
"You're Living the Dream."
It's been seven months since I started eliciting that statement. I've heard it from friends, family, co-workers and even strangers.
Since I started this whole Digital Nomad journey, I've had ridiculously tasty food, tropical scenery, and freedom in my favour. I've spent a month in the Philippines, made it across most of Malaysia and went back to the beach-y bliss of Bali.
Why then, for six months did that phrase strike me as false?
I gave it some thought and ultimately chocked it down to a "grass is always greener," thing. I kind of figured everyone on the outside looking in at my lifestyle was wearing rose-coloured glasses. It's not that I wasn't happy, I just kind of felt like something was missing.
Then I found Hoi An
Then I joined the Hub.
I owe this beautiful discovery to my friend Toni. She works out of a co-working space in Melbourne. As a small business owner, she's come to consider co-working spaces a non-negotiable. She had mentioned to me in the past that I should consider joining the co-working scene, especially while working remotely. It's not that I wasn't interested, I just never really felt the drive to find one. I guess I also kinda figured a co-working space would take away from my cafe-hunting addiction. I owe heaps of high fives to Toni for coming and taking my tush to the Hub.
So what's so great about this space?
Let's start with the physical lushness.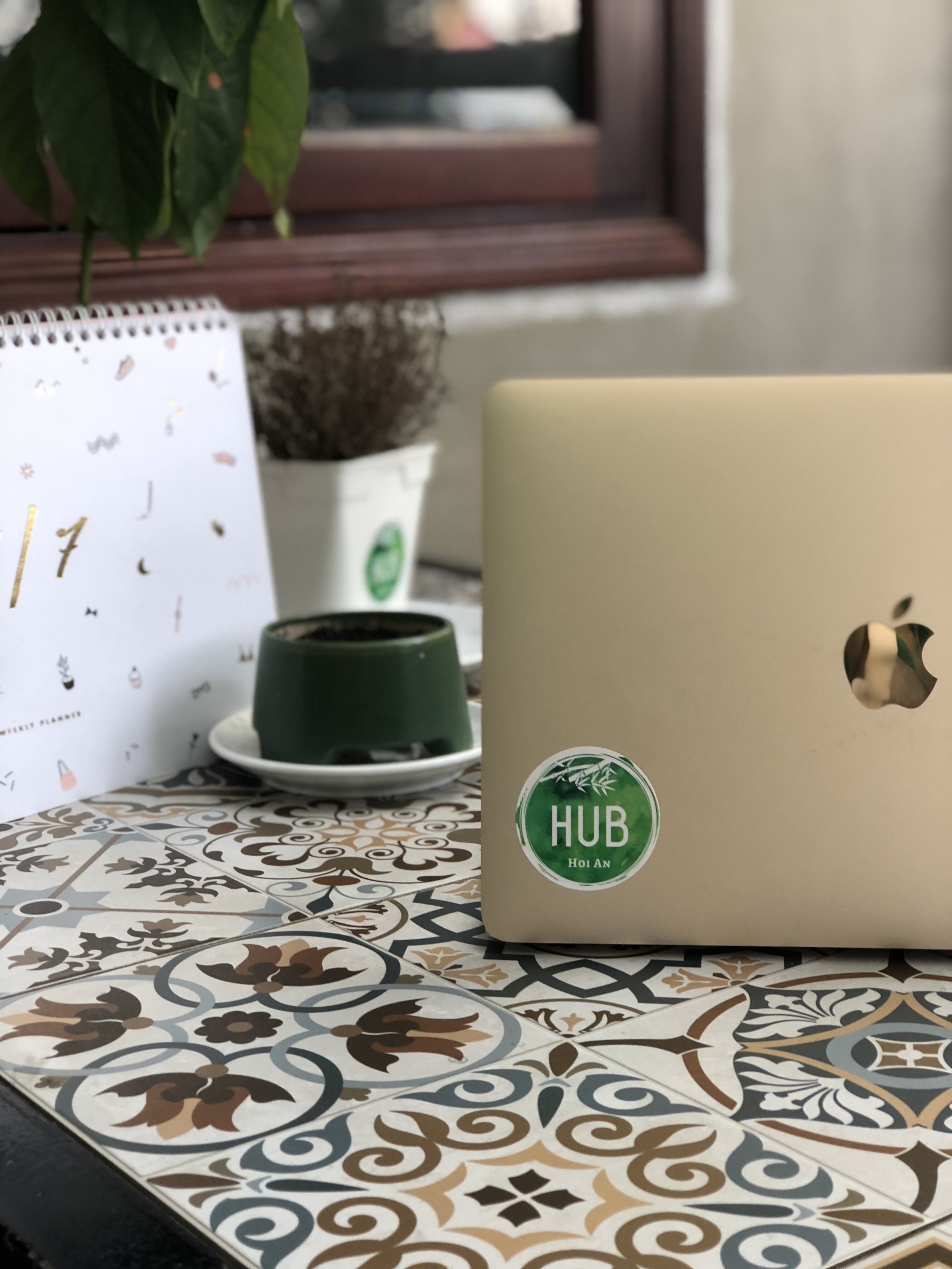 Just look at this beaut. It's pretty easy to see why this space makes me happy. Filled with greenery, local art and adorable design accents, the Hub is a tropical space with heaps of heart and personality.
Started by a lovely German expat named Sarah, the Hub was created to solve the exact problem I found myself facing as as a solo digital nomad. The Hub has community build into every aspect of its existence. Chau, the Hub's community manager instantly made me feel welcome. She was quick to tell me about the Hub's evening events, community lunches and social offerings. From pub trivia nights to language classes and entrepreneurial mastermind sessions, the Hub definitely made me feel like I was part of something.
Pre-hub I never really felt like I had a solid social setup. It become strikingly obvious to me that was my missing piece. The stability of seeing the same faces every morning and having a core group to eat Pho with and drink $0.50 beers with is awesome. What's even more awesome is the social currency I gained from the Hub.
Social currency = resources gained and given from presence in social networks and communities.
I had completely forgotten how valuable this concept was. It's not exactly breaking news that solo travel can can get lonely. Humans are social beings and we need to interact with each other in order to not go bat-shit crazy. What we also need is help. We need to know we can get it and give it. We need to be able to ask each other for help lifting things and gather intel about where to buy the best Banh Mi. I forgot how significant it was to know I had reliable humans around me as resources. Being in a country with a language barrier is a fun challenge; as long as you have a couple team mates with you on the struggle bus.
The Hub filled my social bank balance. It also inspired me to start working on a passion project.
For that reason and many more, I'm so grateful to have found the Hub and I'd highly recommend it to anyone who finds themselves a bit lost in the big wide world of remote working.
Digitalnomadwellness.com coming soon :)