Ven'z Kitchen: A Vegetarian's Dream Restaurant in Moalboal
Before beginning my month in the Philippines, I took it upon myself to gather advice from friends that had previously visited. Considering I love eating, my priority of course was finding out how much/ what/ where I would be eating.
The primary question I raised was:
"How hard do you think it'll be to eat healthy and stay vegetarian in the Philippines?"
To my dismay, the pessimistic responses poured in.
"It's some of the worst food in Southeast Asia!"
"You're going to have to eat meat."
All but one of my friends, (Toni you were right! Love you long time) answered my query with poor reviews of Filipino food. I was promised nothing but chicken elbows, fish eyeballs and overcooked rice...
Well… with the smuggest sense of satisfaction written on my face, I'm happy to report that was a load of chicken knuckle.
In the last month, I've had some of the most amazing meals of my life. Of course, I didn't always make the absolute cheapest choices but I did choose fresh, healthy, delicious Filipino food. Being a vegetarian in the Philippines was NOT an issue. I was pleasantly surprised to see a significant demand for vegan/ vegetarian options. I had 7 different vegan burgers, endless tofu curries and some sizzling eggplant stir-fries to just about die for.
My initial Filipino food highlight occurred on my very first night!
Ven'z Kitchen in Moalboal steered my tastebuds to extraordinary expectations.
Located directly across from our accommodation (Chief Mau), this tiny local restaurant is a subtle gem that captured our bellies for 5 out of our 7 meals eaten in town. If I could go back, I would redo the other 2 meals and eat them at Ven'z . Yep, It was that good.
Why exactly?
First things first, the menu offered one full page of vegetarian delights AND another full page of vegan delights.
I wasn't expecting to EVER see this on a menu in the Philippines, not to mention on my very first night.
Delicious sisig. Get back in my belly
With a beaming grin, I asked the waitress what she recommended for veg heads and she steered me towards the sizzling eggplant sigsig. Similar to a sizzling fajita plate, a sigsig is traditionally made from pork or chicken, diced, spiced and served on a searing grill, topped with a freshly cracked egg. You mix the dish as soon as it arrives, to scramble the egg and combine all of the yummy flavours to perfection. Ven'z offered an amazing veggie alternative.
The eggplant sigsig looked nearly identical to it's meaty counterparts, and featured a delicious seasoning and hearty serve of rice. Within two bites I was in love and demanding we return as many times as possible. My friends were equally impressed with their meaty sigsigs and spicy cashew curries.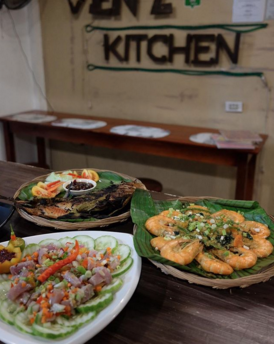 As we were leaving the restaurant we noticed the last page of the menu which offered pre-order seafood plates. Early into the trip I decided I would go pescatarian for the foreseeable future. As a country of 7000 plus islands, skipping out on seafood sounded like a crime I need not commit. My friends jumped for joy when they recognized a dish they'd been treated to earlier in their travels. A Filipino delicacy called Kinilau. Similar to Central America's beloved ceviche, this dish features fresh chunks of raw white fish cooked in lime juice. Stoked to try it, I asked the waitress about it and she explained that their fishermen would go out in the morning and catch our order, to be prepared wrote down our order for the following day. It doesn't get fresher than that!
We returned the next afternoon and were super satisfied with our delicious kinilau dish. Hearty chunks of fresh fish, tangy lime and light seasoning; the seafood was another win for Ven'z. I'd highly recommend this restaurant to carnivores and omnivores alike.
Huge thank you to Ven'z kitchen for setting the tone
for an amazing month of dining ahead!